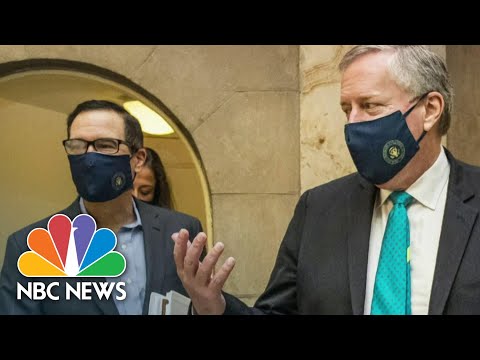 Top negotiators from both parties spent Saturday on Capitol Hill working on a deal for the next round of coronavirus relief. For many families facing hardship, the $600 weekly payment for unemployed Americans that just ran out was a lifeline during the pandemic.
» Subscribe to NBC News: http://nbcnews.to/SubscribeToNBC
» Watch more NBC video: http://bit.ly/MoreNBCNews
NBC News Digital is a collection of innovative and powerful news brands that deliver compelling, diverse and engaging news stories. NBC News Digital features NBCNews.com, MSNBC.com, TODAY.com, Nightly News, Meet the Press, Dateline, and the existing apps and digital extensions of these respective properties. We deliver the best in breaking news, live video coverage, original journalism and segments from your favorite NBC News Shows.
Connect with NBC News Online!
NBC News App: https://smart.link/5d0cd9df61b80
Breaking News Alerts: https://link.nbcnews.com/join/5cj/breaking-news-signup?cid=sm_npd_nn_yt_bn-clip_190621
Visit NBCNews.Com: http://nbcnews.to/ReadNBC
Find NBC News on Facebook: http://nbcnews.to/LikeNBC
Follow NBC News on Twitter: http://nbcnews.to/FollowNBC
Follow NBC News on Instagram: http://nbcnews.to/InstaNBC
Unemployed Americans Anxious For Additional COVID Relief After $600 Payment Ends | NBC Nightly News